We Made An
App For You Artwork Management Needs

---
ProArt Collector consists of various modules that cover all areas of a successful art management. By default, you can enter your objects with all needed data, locations, provenance and prices. Further functions include printing and sending fact sheets, the creation of virtual showrooms, and much more.

Artwork Details
Store all important artwork information. Artist, title, year, category, medium, size and much more.

Images
Add several high resolution images to your objects.

Even More Information
Add even more information to your objects. Notes, prices, provenance, locations and art history research information.

Virtual Showrooms
Create and send virtual showrooms to individuals or groups.

Fact Sheet
Create fact sheets from your objects for hand outs.

Collections
Compile object collections for exhibitions, art fairs, gallery floors and other events.

Multiple Devices
ProArt Collector® runs on a PC/Mac or take it with you on a tablet or smartphone.

Cloud Computing
ProArt Collector® runs in the cloud. Therefore you don't need your own server and ProArt Collector® is accessible everywhere.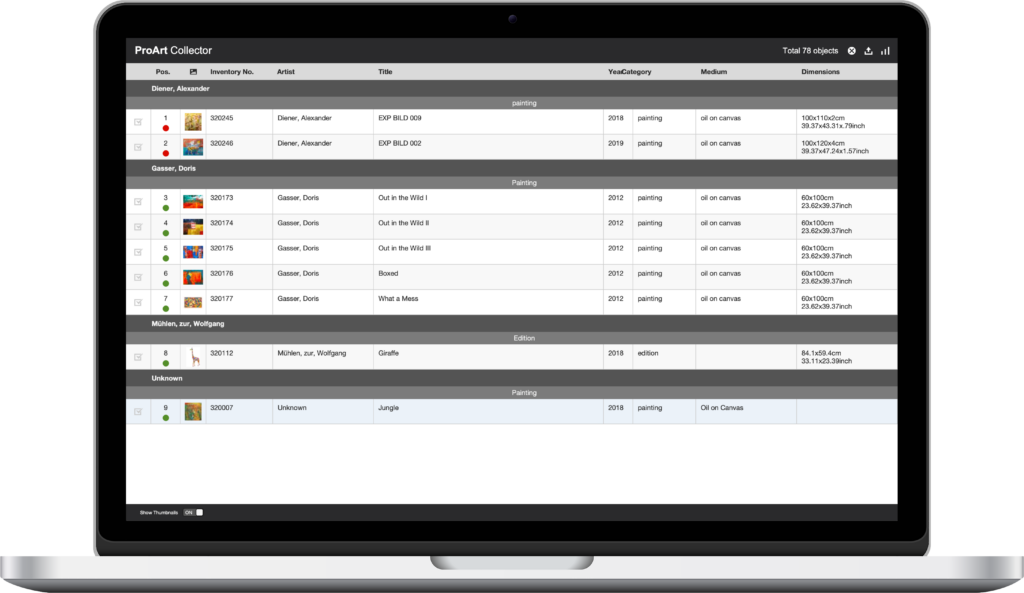 About Us
We are a software company
with a passion for art.
---
The idea for an art managing app derived from doing project cooperations with some of the most important art galleries in the world. We quickly realized that we could better serve the needs of the art world with a dedicated software application. A solution should not only run on a personal computer, but also be available on mobile devices. We went all the way and ProArt Collector runs on macOS, Windows, the Browser, mobile phones and tablets. With ProArt Collector you always have your art with you.
Cloud based (no need for own servers or backups)
Runs on Windows, macOS, mobile devices and website browsers
Secure and safe (latest safety standards)
Suitable for art collectors, artists, galleries and museums
Testimonials
User Feedback
---

We were looking for a software that could help us organize our artwork better and get away from our spreadsheet lists. we found that in ProArt Collector®.
Vilendo Gallery
Modern and Contemporary Art

With ProArt Collector® we are able to quickly present our artwork in virtual presentations to our potential buyers and get feedback back.
Lenardius Janvier
Art Dealer

I wanted to better manage my paintings and always know exactly where they are at the moment. At exhibitions, at my gallery or in storage.
Any other question not listed on the faq
Contact
---
Want to grow your business outside?
Give us a call or send us a message, we endeavour to answer all inquiries within 24 hours on business days.
---
Our Location
Bismarckplatz 3 – 88131 Lindau – Germany
Our Email
info@proartcollector.com
Give us a call
+49 8382 9839927‬